People who work from home have one common favorite thing about their jobs: Staying in their PJs all day. Indeed, nothing's more comfortable than PJs, and being able to work in it sounds like the epitome of work-life balance. If you work in an office that requires you to wear corporate attire every day, surely you're a little jealous of those who can work in their PJs.
But as the work-from-home setup becomes the norm, the PJs all-day trend seems to be meeting its end. More and more people are encouraging remote workers to dress up, too. That's because the clothes we wear supposedly affect our moods, including our productivity.
If you've had no productivity issues with your PJs, this is not a means to force you out of it and dress up smartly instead. But considering a wardrobe change wouldn't hurt.
How Your Clothes Affect Your Mood
Several studies show that our moods can depend on the clothes we wear. Likewise, how we feel when we wake up in the morning can influence our choice of clothes for the day.
In a 2012 study by Professor Karen Pine of the University of Hertfordshire's psychology department, it was found that 57% of women admitted to wearing baggy clothes when they feel depressed. In comparison, only 2% of women wear such clothes when they're happy. 62% of women would put on their favorite clothes when they're happy, while only 6% would do it when they're sad.
The study also found that the go-to clothing of women when they feel blue is: jeans. More than half of the 100 interviewed reported turning to their trusty pair of denim for women for a pick-me-up. According to Professor Pine, "happy" clothes tend to be flattering, with well-tailored lines and bright and beautiful fabrics.
With that in mind, below are some outfit recommendations for feeling happier and more productive, no matter what your agenda is for the day:
Tops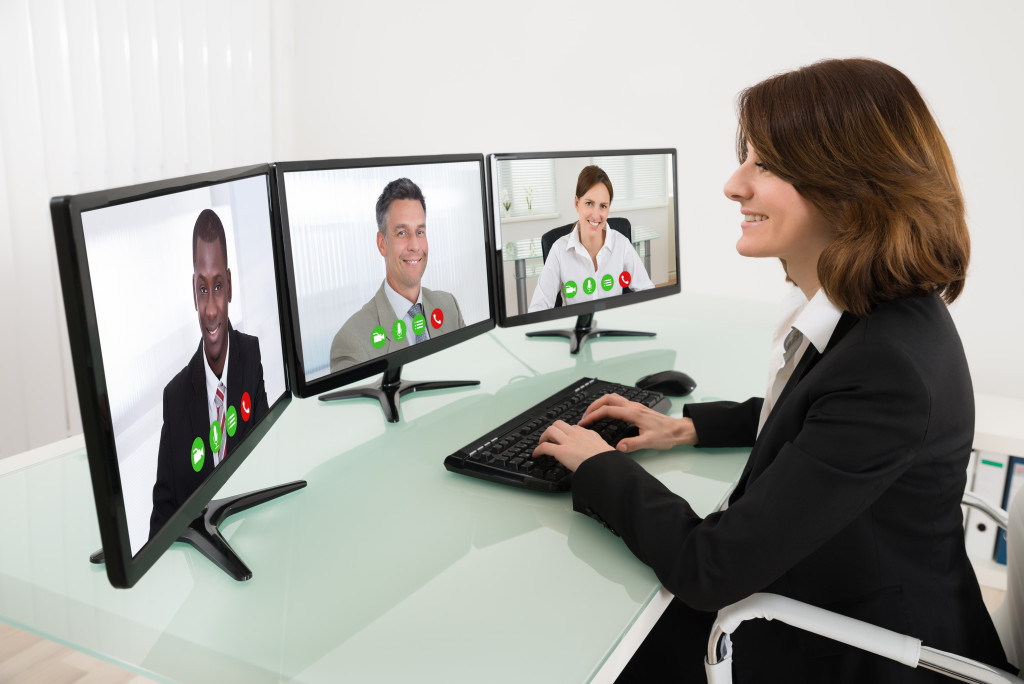 You don't have to be dressy to get in the mood for working. You can keep a basic shirt on, but consider topping it off with a blazer. A blazer can instantly turn any basic outfit into a smart casual one. Not to mention emphasize your shoulders, making them look a little sharper and broader.
If you don't own a blazer, or it makes you feel a little stuffy, a cardigan will make a good alternative. They're cozier, so they may be perfect for boosting your creativity.
Wearing baggy tops is fine, too, as long as you don't associate it with negative emotions. If you'd wear an oversize hoodie, put on its matching sweats. The ensemble may be too comfortable to work in, but the fact that it's a matching pair can shoot up your mood and make you motivated to accomplish many things in a day.
Bottoms
Many of us are guilty of not changing out of our PJ bottoms when office working from home. Zoom calls won't show our full bodies anyway. But if you're already wearing a cute or chic top, why don't you put on some stylish bottoms, too?
To spark your productivity, think as if you're going to the office as you choose among skirts, pants, or jeans. If you'd normally go for something that matches your top, do the same at home, too. Wear denim jeans if you're sporting a basic tee. Go for a skirt if you're donning a dress shirt with a blazer. If neither of those is comfortable, consider palazzo pants.
If you're not working from home, dressing up can motivate you to do other things, like exercising, cleaning the house, or decorating a dated-looking space. To start, try putting on a pair of high-waisted leggings. That piece of activewear can instantly get you in the mood to move. Consider leggings with a fun print, like animal prints. It's not for everyone, but if you love it, flaunt it and work around the house feeling fabulous.
Dress
Wearing a dress saves you from matching a top with a bottom, which can be frustrating if you feel like you've already worn all possible matches. Choose a dress that accentuates your body shape, like a wrap-dress or a sundress. Midi-dresses and maxi-dresses are excellent options, too.
Accessories
Dressing up is more fun when you put on some accessories. They help you look more professional and ready for the day, too. Opt for some earrings of any style, as well as a necklace, a bracelet or a bangle, and a wristwatch. If you're feeling extra in the mood, consider carrying a purse, too.
No matter what you're doing for the day, whether it's work, chores, a side-hustle, or a creative endeavor, it's important to feel your best. With high spirits, you can feel accomplished at the end of every day, even if you spent the majority of the time just relaxing. That's the magic of dressing up; it feeds us with positive vibes in ways our PJs can't.