The practice of meditation can be incredibly beneficial to your mental and physical wellbeing. To get the most out of meditation, you must create a space in your home that is dedicated to this activity.
While you can basically meditate anywhere, having a specific space for it will help you to relax and get into the right mindset. You don't need to have a lot of space or anything too fancy – a simple, clean, and comfortable room will do. Here are some tips on how to create your perfect meditation space at home:
Choose a quiet location
You must choose a quiet location when creating a personal meditation space at home. This will help you to focus and relax more easily. If possible, find a room that can be used solely for meditation. If this is not possible, try to create a dedicated space in another room where you can go to relax and meditate.
Meditation is about being present in the moment, and being surrounded by noise can be distracting. If you live in a noisy environment, consider using earplugs or playing relaxing music to help you focus. You may also want to consider hanging a "Do Not Disturb" sign on the door to your meditation space.
Make it comfortable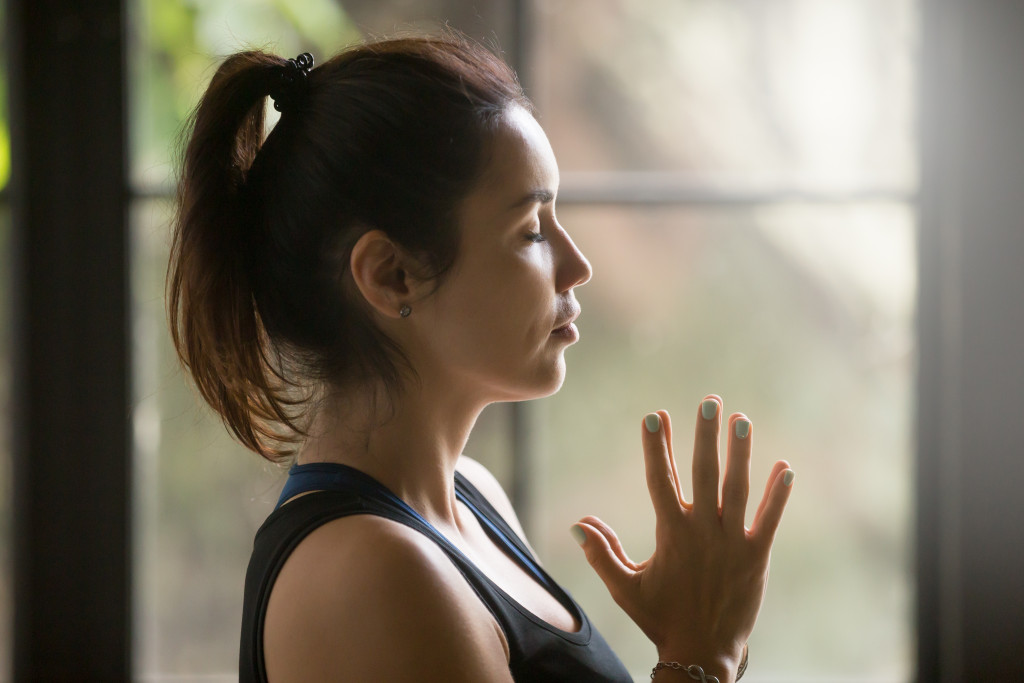 Comfort is the key to successful meditation practice. You don't need to have a lot of expensive equipment or furniture, but you should make sure that the space is comfortable enough for you to sit or lie in.
Consider using a yoga mat or cushion if you are sitting on the floor. If you prefer to sit in a chair, make sure that the chair is comfortable and supports your back. You should also make sure that the temperature in the room is comfortable. Meditation can be pretty relaxing, so you don't want to be too hot or too cold.
Incorporate natural light and fresh air
Natural light and fresh air can help to create a calm and relaxing atmosphere. Position your meditation space near a window to enjoy the natural light. You may also consider opening the window to let in some fresh air.
If you want to give your space more personality, you can add framed glass rooflights. They are perfect for bringing in natural light and fresh air without compromising the peace and quiet of your space. Plus, roof lights are a great way to add style and character to any room.
Keep it clean and clutter-free
A clean and clutter-free environment will help you to feel more relaxed. Make sure that your meditation space is free from any distractions, such as TV screens, phones, or piles of paperwork.
If you have any artwork or objects that you find calming, you can display them in your space. However, it is essential not to overload the space with too many items. A few simple pieces are all you need to create a relaxing atmosphere.
You should also make sure that the room is well-ventilated and free from any unpleasant smells. Meditation can be relaxing, so you don't want to be distracted by strong odors.
Incorporate some greenery
Adding some greenery to your space can help to create a more tranquil atmosphere. Plants have many health benefits, such as reducing stress and improving air quality.
If you don't have a lot of space, you can opt for smaller plants, such as succulents or cacti. Or, if you have a larger space, you could consider adding a potted tree or a few hanging plants.
Choose relaxing colors and lighting
The colors and lighting in your space can also impact your relaxation. Soft, calming colors are best for creating a relaxing environment. Consider painting the walls in a light blue or green color.
When it comes to lighting, it is important to avoid harsh fluorescent lights. Instead, opt for softer, diffused lighting. Candles are an excellent option for creating a relaxing ambiance. You could also consider using a Himalayan salt lamp to help purify the air and create a soothing atmosphere.
Add some personal touches
You can make your space even more relaxing by adding some personal touches. This could include placing a vase of fresh flowers in the room or hanging up some calming artwork.
The personal touches you will add will depend on your own personal preferences. Just make sure that the items you choose help you to feel more relaxed and comfortable. You may opt to add a few family photos or a Buddha statue.
Final thoughts
Creating your personal meditation space at home is a great way to help you relax and unwind. By following these simple tips, you can create an area that is both comfortable and calming. With a little effort, you can turn any room in your house into the perfect place to meditate.