Winter has once again arrived in the Southern Hemisphere. While everyone is retreating back inside their homes to escape the cold, you are lucky to have an outdoor living area where you can still be able to relax and enjoy being in nature.
Create a space that feels both warm and welcoming. Here are some ideas to make your patio cozy:
Roof Over Your Head
Using your patio in the middle of winter will not be possible if the area is uncovered. The cover can be as simple as a large umbrella or a canvas canopy. However, if you want something more permanent, you can install a roof.
Get insulated roof panels to protect you from rain or snow. Look up contractors in your area to install them if you do not have experience with carpentry. A wooden pergola, with trellis and vines for shade, may also work albeit not as ideal for the colder months.
Lay Down a Rug
The presence of a rug instantly makes any space look homey. More than just for aesthetics, a rug provides a soft and warm area for you to rest your bare feet while you read a book, eat your meal, or relax after a long day at work.
If your patio is enclosed, any normal rug would be fine. However, for an open patio, you may want to look for a rug specifically designed to be used outdoors. Check if the material used is weather-proof and will be easier to clean. It will, after all, be subjected to environmental elements such as wind, rain, snow, etc. A bamboo area rug, for example, will only need to be wiped in case food or beverage is spilled on it.
Comfortable Seating
There is no reason why you should settle for hard plastic or metal furniture for your outdoor living area. There are cushy sofas that are stylish, comfortable, and can be used in open spaces.
A sofa is likely to be used more regularly as opposed to the typical patio chairs. It would feel more inviting to hang out in it with friends and family or by yourself for hours. If you want something more fun, a hanging swing sofa would look perfect in your patio.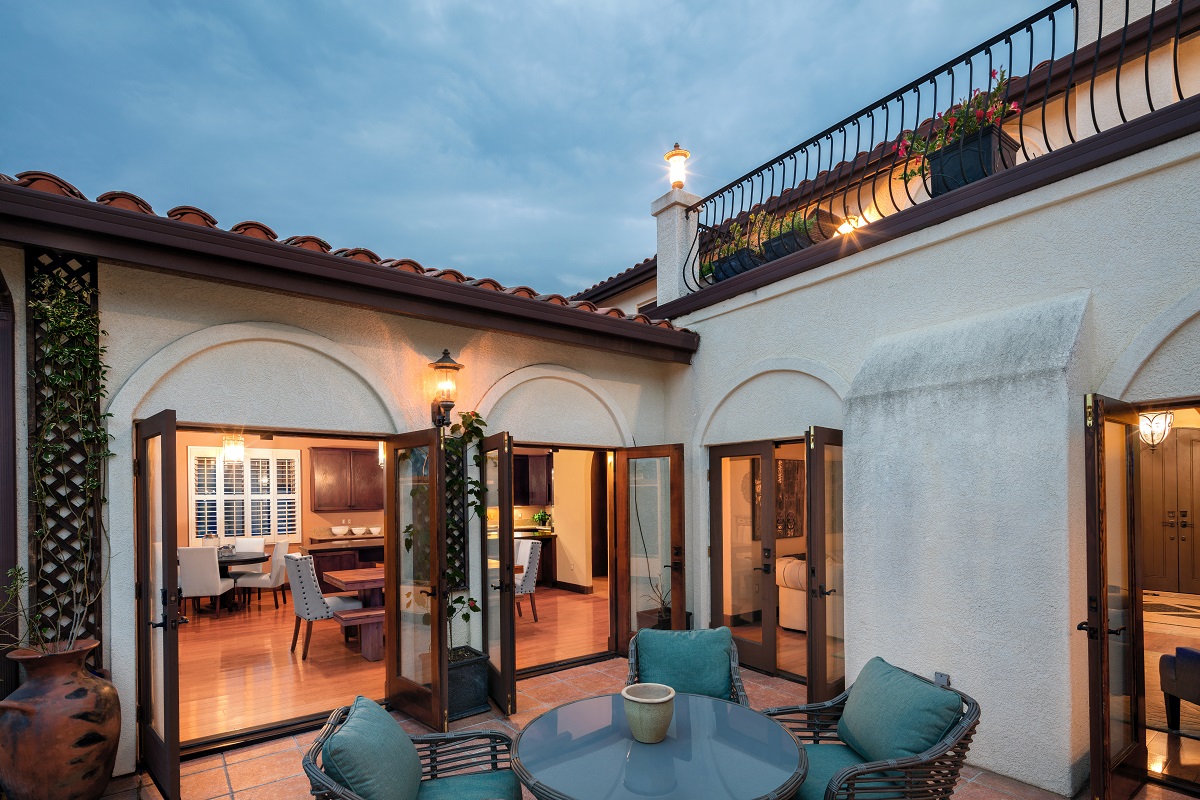 Decorate with Plants and Candles
Your idea of winter is probably cold, dark, and grey. Your patio, however, does not have to be like that. You can counter the dreariness of the outside by surrounding your patio with plants. Go for those that produce a bloom or tropical leaves so it would feel like it is spring and summer all year round.
If you like to cook, it would also be a great idea to cultivate your own herb garden and place it in your patio. This project does not require you to be an expert gardener. It is easy to do and you will always have fresh herbs at your disposal.
Finally, place candles on top of tables to provide a bit of warmth and as additional lighting during the cold evenings.
A cozy and well-maintained patio will encourage you to spend more time outside by yourself and host social gatherings. It will be an investment worth the time and money.