You need more space to store your belongings in today's world. Homes quickly become cluttered with furniture and items that don't serve any purpose or provide any pleasure. However, achieving a minimalist home can be simple. This article will discuss four practical tips for decluttering your home and living minimally. This will help you create a calming and relaxing environment while still being functional.
1. Clean Your Home Regularly
Cleaning your home regularly is essential for keeping it clutter-free. This means going through your closets and dressers to donate items you no longer need, wiping surfaces, washing dishes, vacuuming carpets, etc. Doing this will help keep your home looking tidy and organized.
Additionally, it's important to remember that deep cleaning your home regularly is essential for its upkeep. This involves more thorough cleaning tasks like mopping floors, washing windows, and scrubbing bathrooms. If you need more time or energy to do these tasks, hiring professional house cleaning services can help ensure your home is always in top shape.
Cleaning services can provide a deeper clean than you can accomplish on your own, and they offer the added convenience of coming to your home when it works best for you. In addition, they can use special tools and products that further protect your home from dirt and germs while keeping surfaces free from dust and bacteria.
2. Limit Purchases and Focus on Quality Over Quantity
Be more mindful of what you buy, and avoid getting tempted by the latest trends or fads. Quality over quantity is essential when it comes to achieving a minimalist home. This means investing in pieces that will last and buying only a little at a time. Also, consider shopping secondhand to find unique items and save money simultaneously.
Before making a purchase:
Take stock of the items you already have.
Ask yourself if this item is necessary or can be replaced with something you already own.
Choose timeless pieces that will work in your home for several years, and avoid buying anything from fast fashion stores.
It would help if you also resisted buying items impulsively, as this can quickly add up and create clutter.
Finally, you should ask yourself if the item is truly needed or if it will bring joy to your life. If it doesn't offer any utility or pleasure, it might be best to avoid buying it altogether.
3. Create a System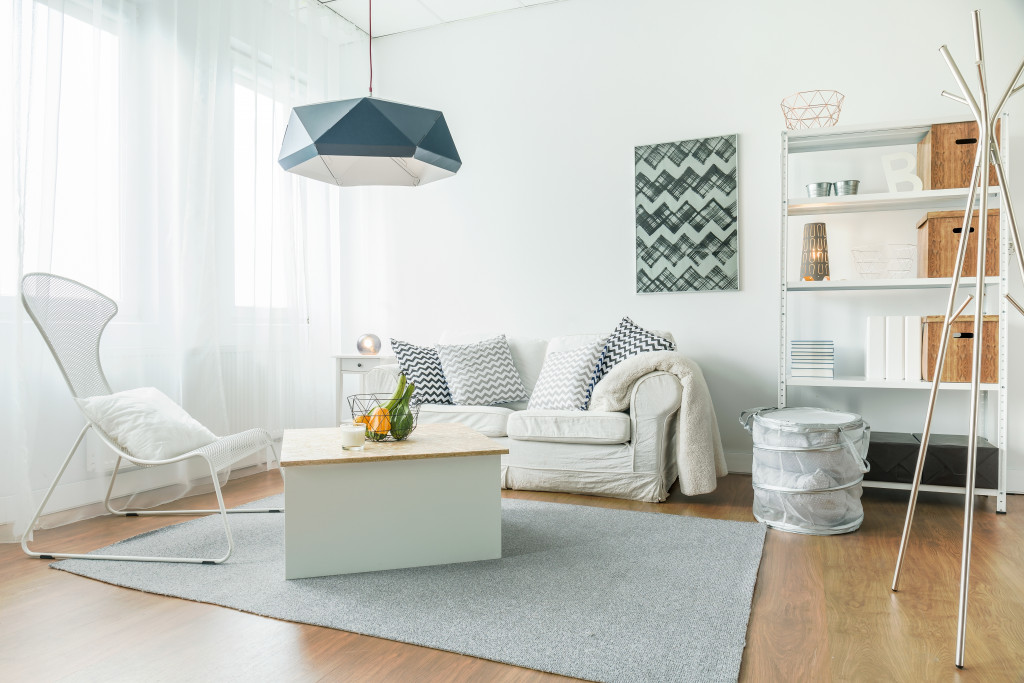 Creating a system is key to maintaining your minimalist home. Organize everything into designated areas so that you know exactly where each item belongs and can easily find it when needed. For example, specify a place for books, office supplies, etc., and keep these spaces as organized as possible.
When creating a system, think about how you use the items in your home. Grouping items that you commonly use together can maximize storage and make it easier for you to find them. You can also create zones within each area for specific items — for example, organizing kitchen supplies into categories such as baking, cooking, and serving.
Labeling items can also make it easier to keep your system organized. This will help you quickly find items and remind you which box or shelf they belong in. It's best to label items according to their purpose — for example, "Baking Supplies" instead of just "Kitchen."
You should also try to declutter regularly. This will prevent items from piling up, making it harder to stay organized and maintain a minimalist lifestyle. If you can't find a place for something, it might be time to get rid of it. Consider donating or selling items that are still functional. This way, they'll go to good use, and you'll have more space in your home.
4. Invest in Multi-Functional Items
Many products on the market now are designed to be space-savers. Invest in items that can be used for multiple purposes, like a storage ottoman or an accent table with drawers. This will help save floor space and keep your home looking clean and organized.
Another excellent option for space-saving is furniture and appliances that can be used in more than one way. A sofa, for example, can be rearranged to create seating for guests or an area for lounging. A kitchen island could provide additional countertop space as well as storage underneath. A bed frame can be designed with drawers for extra storage.
Be sure to measure the space you are working with first, as multi-functional items can quickly become overcrowded. Look for pieces that offer plenty of storage without taking up too much floor space. Consider color and texture when selecting furniture, as these elements can help bring a room together.
Final Words
Decluttering your home doesn't have to be an impossible task. With these four tips, you can create a more minimalist living environment while still having functional pieces that make your home feel cozy and inviting. Don't forget to start small, list what you need, keep only the things that bring joy, and invest in multi-functional items. Doing so will declutter your home and improve your overall quality of life.