As the temperatures drop and the days get shorter, it's time to plan how to cozy up your home for the snowy season ahead. Whether you live in a winter wonderland or somewhere that sees more rain than snow, there are plenty of ways to add a touch of holiday cheer to your home. Here are a few of our favorite ideas:
1. Bring the Outside In
One of the best ways to make your home feel festive is to bring the outside in. Collect some pine cones and branches from your yard (or take a walk around the neighborhood and gather some fallen leaves) and use them to create a cheerful centerpiece for your coffee table or dining room table. You can also use small branches to make a wreath for your front door. Not only will this give your home a festive look, but it will also make it smell like Christmas!
When it comes to decorating for the winter season, don't forget about your windows. Hang garlands of snowflakes or icicles from your curtains, or you can even make your own window clings using colorful contact paper. If you want to add a bit of warmth, try hanging some velvet curtains to bring in a cozy vibe.
2. Repaint Your Home
A new coat of paint can do wonders for giving your home a makeover. Choose colors that will bring out the best in your decor and create a cozy atmosphere. Try subtle shades of blue and gray to give your home a wintery feel, or use bold oranges and reds to add a touch of warmth. Many people also like to paint their walls white or cream for a bright, wintery look. Whatever colors you choose, make sure they complement each other and create a unified look throughout the house.
If you're thinking of repainting during the colder months, you may want to look into residential painting services. These professionals will ensure that your paint job is done right, and they can also provide you with tips and advice on the best colors and finishes to use. They can also help you save time and energy by taking care of all the prep work for you.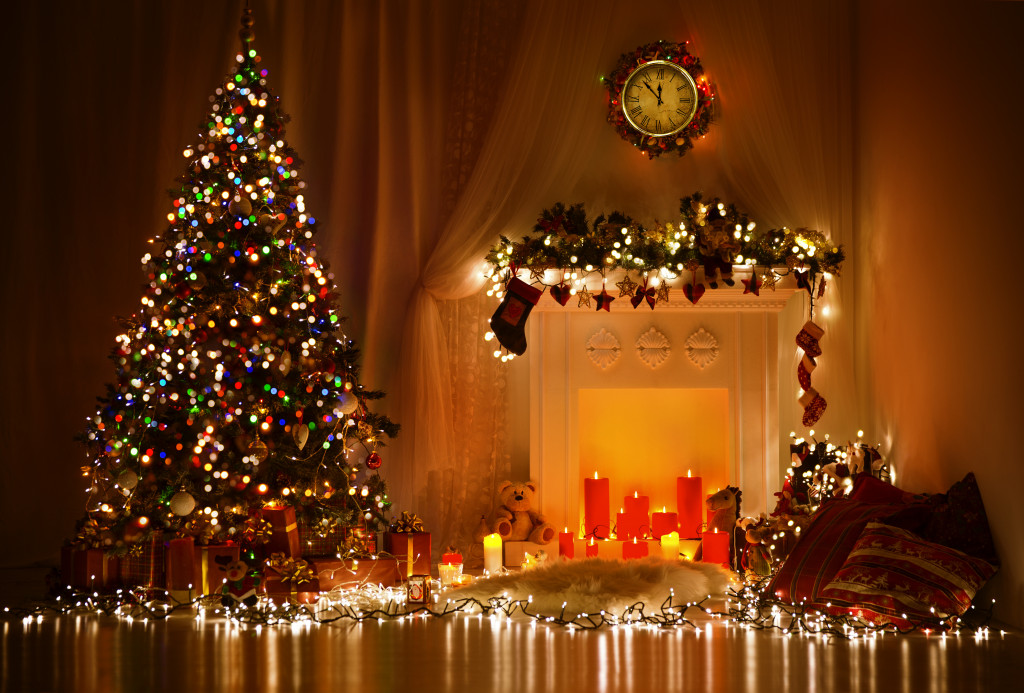 3. Dress Up Your Fireplace
If you have a fireplace, now is the time to start thinking about how to dress it up for the holidays. You can hang stockings from the mantel, string some lights around it, or add some garland and greenery. If you don't have a real fireplace, don't worry – plenty of electric fireplaces on the market will do the trick! Just turn it on, sit back, and enjoy the ambiance it creates.
But don't forget about the practical side of things. Make sure your fireplace is clean and in good working order before you start decorating it so that you can enjoy it without worrying about safety risks. A good chimney sweep will help you make sure everything is in working order. You can also invest in a fireplace screen to help keep the sparks and embers from flying out.
4. Get Creative with Lighting
Nothing says "holiday" quite like string lights. But if you're looking for something a little different this year, try using icicle lights or LED candles to create a warm and inviting atmosphere in your home. You can even buy battery-operated lanterns that look filled with real flames! These are perfect for placing around your front door or on your patio or deck (if you have one).
Use LED lights indoors for safety, and don't forget to turn them off when you're not using them. This will help save energy and prolong the life of your lights. If you want to make sure your lights last longer, try using a timer so that they turn off automatically. They're also a great way to add a cozy ambiance to your home during the holidays.
5. Add Some Fluffy Blankets
Winter weather means it's time to bring out the blankets! Stock up on some cozy, plush throws and blankets in various colors and textures to add a touch of warmth to any room. Place them on your couches or armchairs, or even hang them on the wall to make a statement. You can also use blankets in different colors and patterns as table runners or even curtains, depending on your style.
And don't forget about the traditional Christmas quilt! Whether you make your own or buy one, it will add a beautiful and festive touch to any room. Some quilts even come with festive designs, like snowflakes and poinsettias.
There's no place like home during the holidays – so why not make yours as cozy and inviting as possible? Always remember to take into account your budget and safety when making changes or adding decorations, but other than that, the possibilities are endless. Have fun getting creative and adding some holiday cheer to your home this winter season!