A bathroom can be the most relaxing and peaceful space in your home. It is a place of self-care, personal reflection, and relaxation. However, over time it can become drab and stale with no real personality. If you are looking to give your bathroom a makeover but don't have the budget for cosmetic changes or a complete renovation, here are four unique ways to refresh your bathroom:
1. Add Color Through Accessories
Adding accessories like shower curtains, rugs, towels, artwork, and planters can inject color into an otherwise dull space. You can choose from vibrant hues that bring out the beauty of natural materials like wood or stone or pick softer shades of blue or green for a more calming atmosphere. With various textures, prints, and patterns available, you can easily create a unique look without spending too much money.
When it comes to accessories, the options are plentiful. Pillows and throws can add a pop of color and texture, while window treatments can set the tone for an entire room. Mirrors and light fixtures both provide the opportunity to make a statement with their design. Storage baskets or boxes can help keep surfaces clutter free and organized. Plus, with the addition of a few plants, you can transform the space into a living oasis.
For an extra punch of color and texture, hang artwork or wallpapers on your walls. Wallpaper is both beautiful and timeless and comes in a wide range of colors and patterns to suit any style. The artwork also allows you to express yourself, whether it's a favorite piece of photography or an abstract painting.
2. Upgrade Your Lighting
A bathroom's lighting can have a significant impact on the overall feel and appearance of the space. Switching out harsh overhead lighting with softer lighting options like wall sconces or pendant lights will improve your bathroom's look and make it more inviting. Additionally, installing dimmer switches is a great way to get more control over the brightness level and change up the ambiance in an instant.
When it comes to updating the lighting in your bathroom, plenty of options are available. If you want a more modern look and feel, then opt for recessed lighting or LED strips to create a sleek, contemporary effect. Alternatively, consider incorporating accent lights into your design to draw attention to any architectural features such as mirrors or wall art. This can also be a great way to add a more decorative touch and help your bathroom stand out.
Another way to upgrade your bathroom lighting is by incorporating task lighting. This type of lighting will provide additional illumination in areas such as vanity units or showers, making it easier to complete certain tasks such as shaving or applying makeup. You can choose from wall-mounted lights, spotlights, and even under-cabinet lighting to provide the perfect light for your needs.
3. Replace Fixtures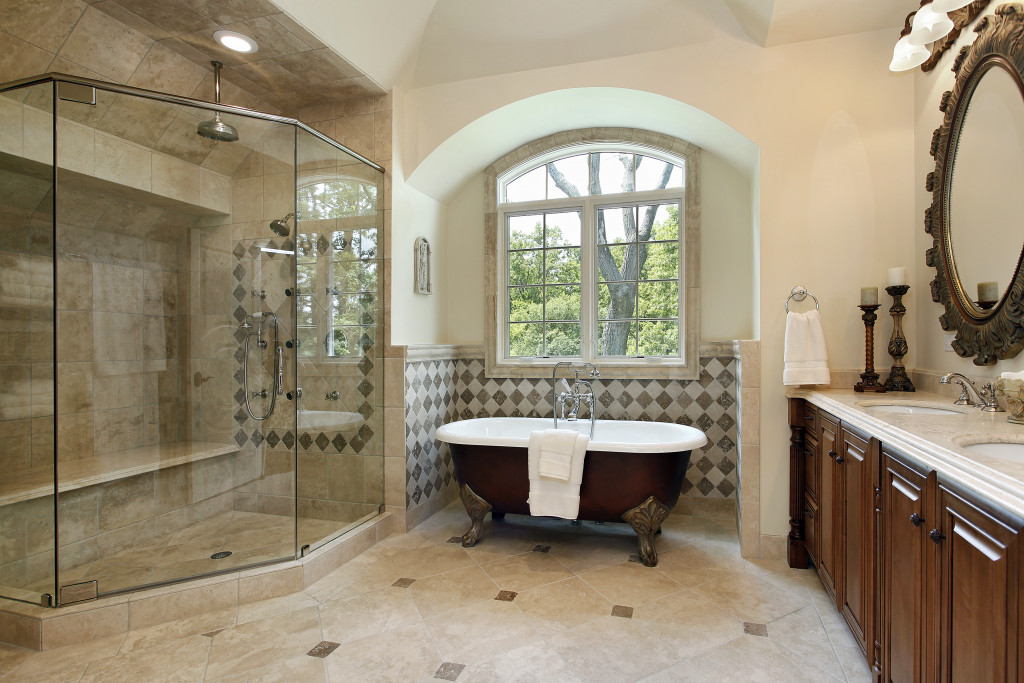 Replacing old fixtures such as sinks, toilets, and faucets is one of the easiest ways to update a bathroom's style. There are several options to choose from, ranging from classic and traditional to modern and sleek. Choose finishes that complement the existing color palette in your bathroom, or make a bold statement with more dramatic fixtures.
When choosing bathroom fixtures, consider pairing them with coordinating hardware such as cabinet pulls and drawer handles. Upgrading the hardware in a bathroom is an easy way to add a touch of style and sophistication. Glass shower doors are another popular option for updating bathrooms. They come in both framed and frameless designs, depending on personal preference and budget.
4. Add Storage Solutions
Installing additional storage solutions such as floating shelves, open cabinets, or baskets is essential if you're looking for a quick bathroom fix. This will help to keep clutter off the counters and floors, making it much easier to keep things organized. Plus, it's an easy way to add some color or pattern into the space without taking up too much visual space.
Cabinet remodeling is another way to improve storage space in the bathroom. This involves replacing existing cabinet doors and drawer fronts with new materials like wood or laminate. You can customize the new doors and drawers to match the style of the room, adding a modern touch to any bathroom. Plus, replacing the entire cabinet is much faster and more affordable. Cabinet remodeling also provides an opportunity to upgrade hardware, such as handles and hinges. This can bring a whole new look to the space without purchasing entirely new cabinets.
Additionally, storage solutions for the bathroom can go beyond just shelves and cabinets. For example, adding towel racks to the walls is a great way to make sure towels are organized and within easy reach. Installing hooks on the back of the door can also help keep items such as robes, towels, and washcloths off the floor. Finally, an area rug or two can add texture while keeping wet feet away from cold tile floors.
In Summary
Updating your bathroom doesn't have to require a considerable budget or extensive renovation work. With these four unique ways to refresh your bathroom, you can bring life back into the room in no time. From replacing fixtures and adding accessories to upgrading lighting and installing wallpaper, there are plenty of ways to makeover your bathroom on a budget. So go ahead – give your bathroom the makeover it deserves!