The term "rustic" conjures up images of cozy cabin retreats and rural farmhouses. A rustic aesthetic can make any home feel warm and inviting. Because of this, many homeowners want to create a rustic look in their kitchen and dining room to evoke a sense of comfort and relaxation. Here are some simple tips for creating a rustic kitchen and dining room.
1. Use Natural Materials
Using natural materials is one of the easiest ways to create a rustic feel in your kitchen or dining room. Wood, stone, and even metal can lend a rustic vibe to your space. Consider using reclaimed wood to build a mantel if you have a fireplace. Stone floors or countertops can also add to the rustic feel of your kitchen or dining room. And don't forget about using metal accents, like wrought iron lighting fixtures or chairs with metal frames.
Solid wood dining room furniture is especially fitting for a rustic aesthetic. Look for pieces with interesting textures like knotty pine or ones made with reclaimed wood. They can also be great conversation starters, as each piece has a unique story to tell. Always be sure to keep in mind the type of wood you use, as certain types fare better with age than others.
2. Incorporate Earthy Tones and Textures
Another way to create a rustic aesthetic is to incorporate earthy tones and textures into your décor. Consider using burlap table runners, linen napkins, or even clay dinnerware. Woven baskets can also be used to store items like placemats or tablecloths. And for an added touch of rusticity, try hanging vintage tools or mirrors on your walls. You can also incorporate natural textures like jute rugs, and cowhide throws for a truly unique look.
But make sure not to go overboard with the earthy tones and textures, as too much can make your space look cluttered. Opt for a few pieces that stand out and create an eye-catching focal point. This will keep your space from feeling overwhelming. To create an overall calming effect, you can also stick to a neutral color palette, like white and gray.
3. Add Plants and Greenery
One of the best things about a rustic aesthetic is that it allows you to bring the outdoors inside. Adding plants to your kitchen or dining room is an easy way to create a cozy space. Fresh flowers, potted plants, and even fruit bowls can add color and life to your kitchen or dining room. You can also hang hanging baskets from the ceiling or hang wall planters for a more whimsical look.
If you don't have a green thumb, you can still add greenery to your space with faux plants. They are a great way to add texture and color without the maintenance of real plants. Just be sure to look for realistic-looking ones that won't stand out too much. They should blend in with the rest of your décor.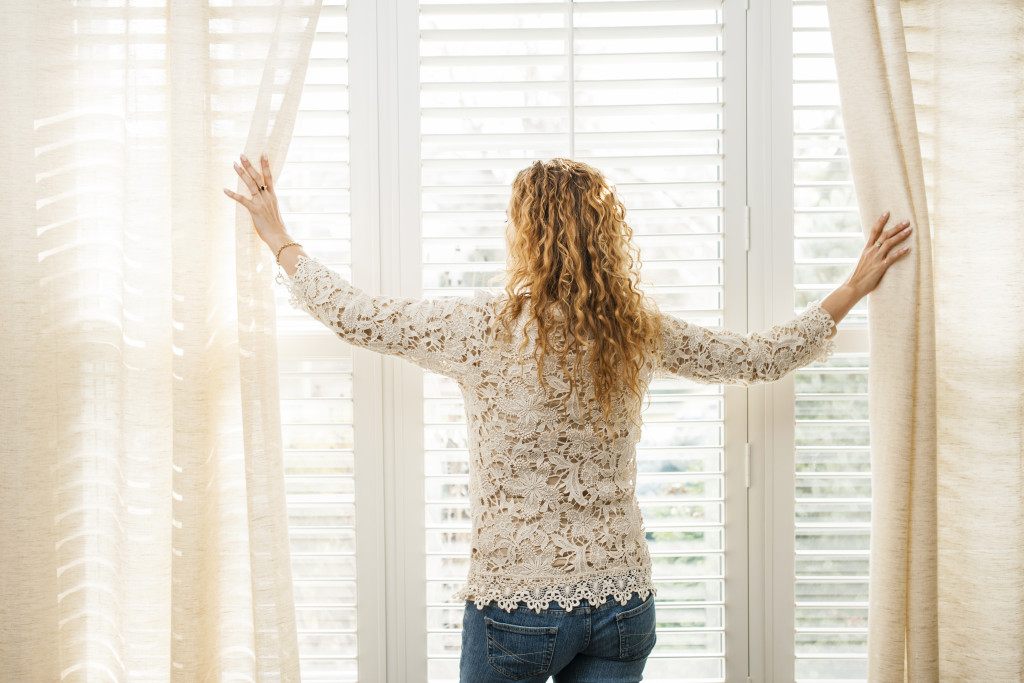 4. Incorporate Natural Lighting
If you have a window in your space, don't be afraid to let in some natural light. Sunlight will help accentuate any wood tones in your space and make it feel brighter and more inviting. If you don't have a window, consider adding mirrors to help reflect the light. You can also hang string lights or wall sconces for a softer, more subtle glow.
Candles are also a great way to create a cozy atmosphere. Look for ones with rustic scents like pine or cedarwood that will help evoke feelings of comfort and relaxation. Just make sure you blow them out before leaving the room. You don't want your rustic décor to go up in flames!
5. Finish with Accessories
Once you've got the main elements of your kitchen and dining room in place, it's time to add some finishing touches. Adding a few knickknacks like old books or vintage jars can add to the rustic feel of your kitchen or dining room. You can also hang artwork that features rustic scenes. Many craft stores also offer rustic-inspired décors, like wreaths made from dried flowers or antlers.
Of course, family photos are also a great way to make your space feel homier. Consider hanging them in rustic frames for an extra touch of texture and charm. Finally, don't forget to add some cozy throws and pillows to make your space even more inviting. Every good rustic kitchen or dining room should be a place where you can relax and unwind.
A rustic aesthetic is all about creating a warm and inviting space. You can easily transform your kitchen or dining room into a cozy retreat by incorporating natural materials, earthy tones and textures, and even some elements from nature. Always remember that you don't need to go overboard with your decorations; a few tasteful pieces will do the trick. With these tips, you'll have a rustic kitchen or dining room that will make your guests feel right at home. Enjoy!