Transform your backyard into a modern oasis of relaxation and entertainment with just a few simple changes! Whether you're looking to create an outdoor seating area, update the landscaping, or add some features for fun activities, there are plenty of creative ways to turn your backyard into a contemporary retreat.
With carefully chosen furniture, plants, and accessories, you can customize your space to fit any style while adding value to your home. Read on for tips on making the most out of turning your backyard into a modern oasis.
Invest in quality furniture
Investing in quality outdoor furniture for your backyard is a great way to show off your style and transform the exterior of your home into an elegant and chic oasis. Quality furniture is essential when striving for an aesthetically pleasing look, as it allows you to choose from various colors, materials, and even prices that fit within your budget and design scheme.
Additionally, quality pieces are designed to withstand weather conditions, sun exposure, and more — ensuring they last longer and maintain their appearance over time. Not only will investing in quality furniture make your backyard look more modern and inviting, but it will also allow you to customize your own distinct space where you can relax with friends or family. Furthermore, having quality pieces of furniture not only adds value to your home and boosts morale – giving you much more than just aesthetic benefits.
Select plants that will bring life and color
Creating a modern oasis in your backyard can be highly rewarding and beneficial, especially when striving for a beautiful, aesthetic look. Selecting the right plants is key to maximizing this aesthetic; pick colors that will bring life and vibrancy to the area without dulling with time.
Go for a combination of shrubs, perennials, annuals, and bulbs for a more inviting look overall — the colors resulting from these combinations have the potential to make your backyard come alive. Think of the landscape design that best fits your needs: do you want a mix of native and exotic species? Do you need something that will thrive in the sun or heavy shade?
Focusing on the textures, shapes, and colors of particular plants can also add a level of visual interest. Doing so has great significance — it adds layer upon layer of beauty to an otherwise dull setting in your yard. And who doesn't want a designed outdoor area? Pick standout plants that will wow every visitor or create a secret corner that speaks your style. In other words: why not get creative?
Incorporate modern lighting fixtures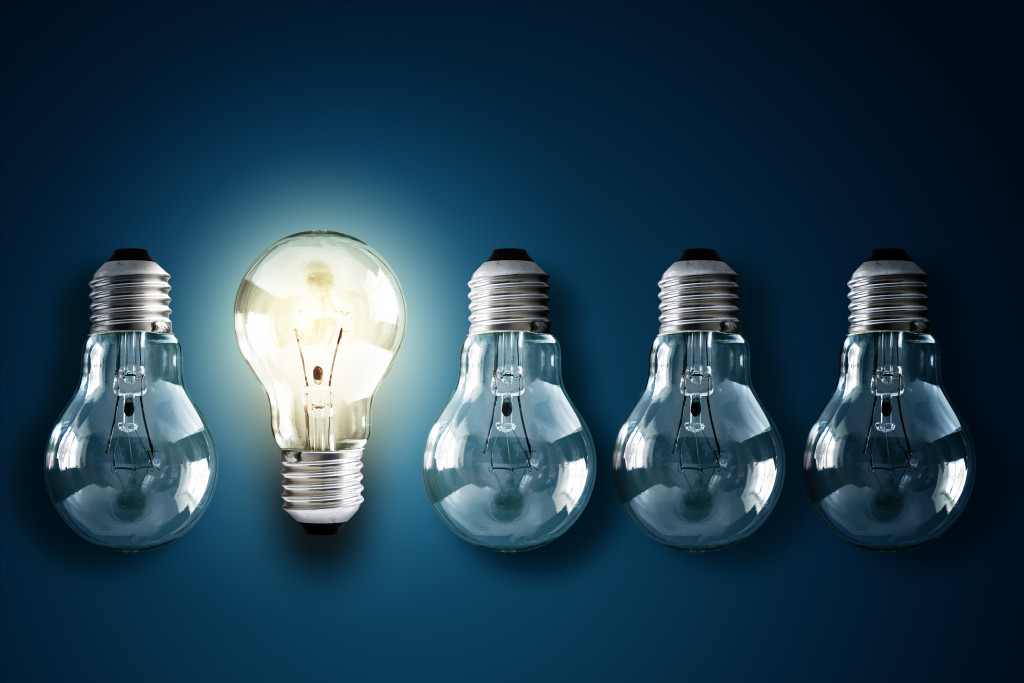 Modern lighting fixtures are a great way to elevate your backyard from just a common outdoor space and turn it into an oasis. Incorporating them into the landscape ensures that you can create beautiful, warm atmospheres that add aesthetic value to your backyard.
For maximum effect, think about how the lighting will best illuminate areas of your garden – does it need to be subtle, or should it make a statement? Modern fixtures also mean functionality plays a part; having the right type of lighting can easily create pleasant pathways which make enjoying your garden at night, or even during the day, a breeze.
When used strategically in your garden setup, modern light fixtures effectively give extra layers of design elements to your existing background – making it not only visually appealing but also fully customizable according to what other elements you pair it with.
Install an outdoor kitchen or bar area
Installing an outdoor kitchen or bar area for entertaining guests is a great way to take your backyard from average to extraordinary. Not only will you be able to take advantage of the convenience of traveling between indoor and outdoor spaces, but the aesthetics will be second to none.
While considering different color palettes and design elements, keeping naturalistic tones in mind is always advantageous; this gives guests the opportunity to feel as though their oasis experience is comparable to that of being out in nature.
Installing these features also encourages other forms of entertainment such as seasonal gatherings and family dinners with friends. For anyone looking to add an inviting nuance to their environment that speaks volumes, installing an outdoor kitchen or bar area should certainly be on the shortlist!
Consider adding a water feature
Adding a water feature like a fountain or pond to your backyard is definitely worth considering if you're looking to modernize the aesthetic of your outdoor space. Not only could this transform a mundane backyard into an oasis, but it can also add a touch of luxury and provide soothing white noise that relaxes both mind and body.
To maximize its aesthetics, place the water feature as the focal point in your backyard, decorate it with plants, flowers, and even statues that reflect your personality, and integrate lighting at night to create a beautiful ambiance. The significance of adding a water feature is not to be understated; it's almost like a functional piece of art that adds texture, interesting soundscapes, and beauty to any outdoor area.
There you have some tips on how to turn your backyard into a modern oasis. With the right furniture, plants, lighting fixtures, and water features, you can create a truly amazing outdoor space that will be enjoyed for years to come! So, don't wait any longer – start transforming your backyard today!