Transform your home exterior with a fresh coat of paint.
Upgrade the front door for added elegance and style.
Invest in garden space by clearing the area, adding colorful flair, creating pathways, and incorporating garden room designs.
Enhance the ambiance with outdoor lighting fixtures.
Upgrade your outdoor living space with furniture, cushions, shades, umbrellas, and fire pits.
As you approach your home after a long day, the exterior is the first thing you see—a glimpse of what awaits inside. A well-maintained and thoughtfully designed exterior can make a lasting impression on guests and passersby. Moreover, an attractive home exterior can increase the value of your property and make it stand out in the neighborhood.
1. Fresh Coat of Paint
A simple yet effective way to transform your home's exterior is by giving it a fresh coat of paint. Over time, weather conditions and exposure to the elements can wear down the paint, making it look dull and faded. By repainting your home's exterior, you can breathe new life into it and create a new vibe.
When choosing a paint color, consider the architectural style of your home and the overall aesthetic you want to achieve. Neutral colors, like beige, gray, or white, are timeless and versatile, complementing various design elements. Alternatively, consider bolder colors for your front door or accents if you want to add a pop of personality.
2. Upgrade Your Front Door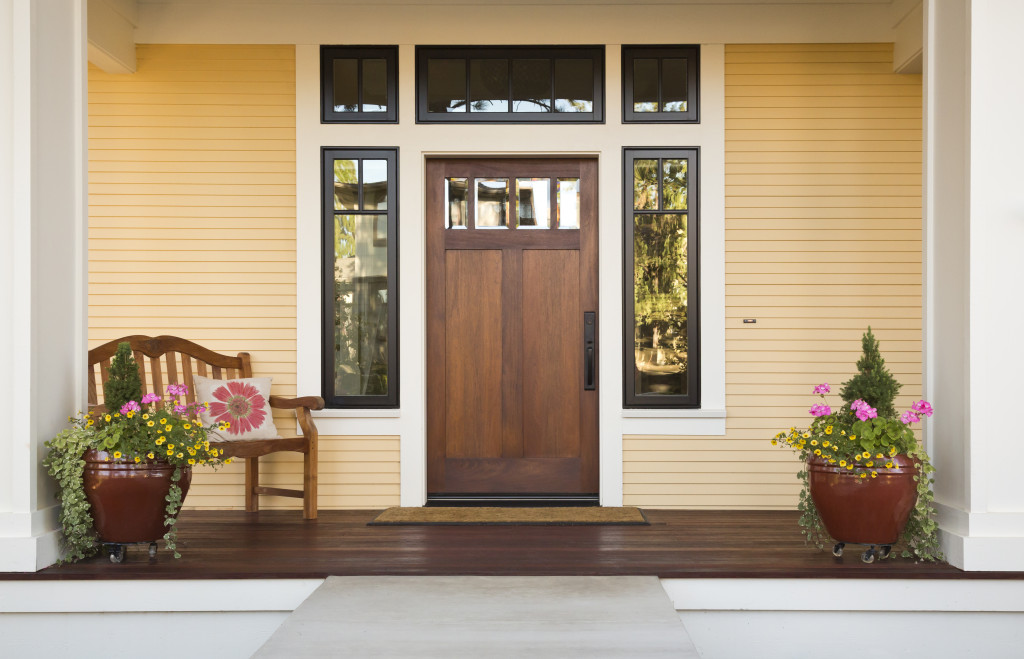 The front door is the focal point of your home's exterior and is crucial in creating a welcoming atmosphere. Upgrading your front door can instantly enhance the curb appeal and add a touch of elegance.
Choose a door design that complements the architectural style of your home. Whether it's a modern, contemporary, or traditional design, ensure it harmonizes with the overall look. Consider materials like solid wood, fiberglass, or steel; they offer durability and aesthetic appeal. Don't forget to install quality hardware, such as stylish doorknobs and door knockers, to complete the transformation.
3. Invest In Your Garden Space
Investing in your garden space can make a significant difference in transforming your home's exterior. A well-maintained and thoughtfully landscaped garden can elevate the overall appeal of your property and create a pleasant environment.
Here are some tips to invest in your garden space:
Clear the Space
Before you start, it's important to clear out any overgrown vegetation and weeds that may take up residence in your garden. This will help create a blank canvas for you to work with and lay the foundation for your project. Take some time to clean up branches, remove debris, and tidy up the existing landscape before getting started on any new additions or changes.
Add Colorful Flair
Adding beautiful pops of color is one of the best ways to liven up your garden space and add visual interest. Incorporate vibrant flowers like roses, dahlias, and tulips into your garden beds or around entryways for an eye-catching display. Add colorful planters and window boxes for a touch of elegance, or hang up flower baskets for a pleasant balcony view.
Create Interesting Pathways
Adding pathways to your garden space is easy to create visual interest and guide visitors through its landscaped beauty. You can use stepping stones, pebbles, wood chips, or paving slabs to construct paths that add texture and depth. Position these pathways around key focal points like seating areas or water features for maximum impact.
Incorporate Garden Room Designs
Adding luxurious garden room designs to your outdoor space will take it up a notch. It is a great way to enjoy nature and can be used as an entertainment area for family and friends. Garden rooms are available in many designs, styles, and sizes, so you're sure to find one that fits your needs perfectly.
4. Outdoor Lighting
Don't overlook the power of outdoor lighting in transforming the ambiance of your home exterior. Properly placed lighting can add warmth, safety, and a touch of drama to your outdoor space.
Install lighting fixtures strategically around your home's exterior, focusing on the front entryway, pathways, and architectural features. Choose fixtures that match the style of your home and provide the right amount of illumination. Solar-powered lights are an eco-friendly option and can be easily installed without the need for electrical wiring.
5. Upgrade Your Outdoor Living Space
An appealing outdoor living space can add value and functionality to your home. Whether it's a cozy patio, a spacious deck, or a charming terrace, upgrading this area can transform your home's exterior into an oasis for relaxation and entertainment.
Consider investing in comfortable outdoor furniture, like lounge chairs, sofas, and dining sets, to create a cozy and inviting atmosphere. Add some outdoor cushions and throw pillows for extra comfort and style. Install shades or umbrellas to protect yourself from the sun, and consider adding an outdoor grill or fire pit to elevate your entertainment options.
In Summary
A beautiful and inviting exterior for your home is easier than you may think. By following these five tips, you can design a striking outdoor area that showcases your personal style and enhances your home's curb appeal. From refreshing the paint to upgrading your outdoor living area, each step will make a noticeable difference in your home's overall look and feel. Investing in your garden space will beautify your home exterior and provide you with a tranquil sanctuary to unwind and connect with nature. So, roll up your sleeves, get creative, and enjoy the process of transforming your home into a true showstopper.